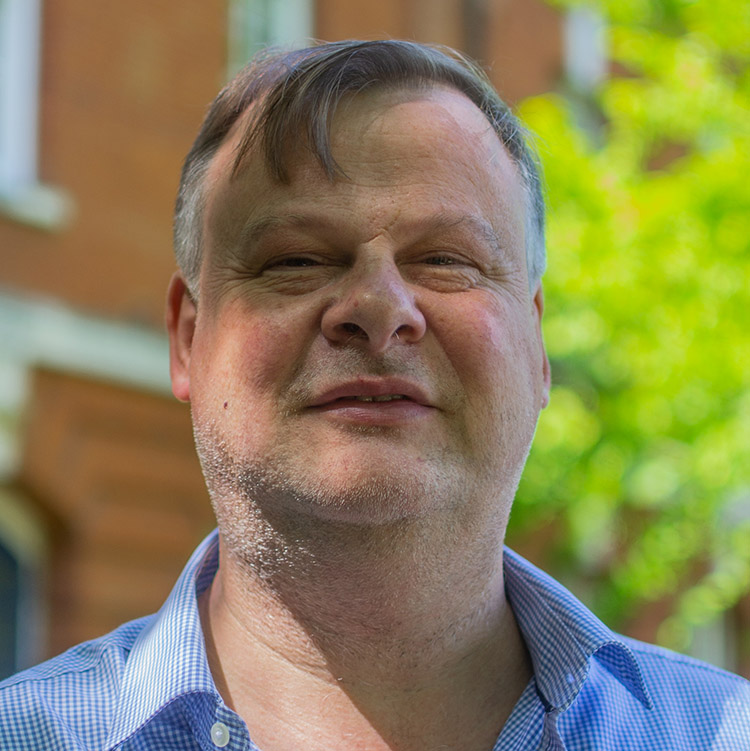 Professor Nigel Temperton
Professor of Molecular Virology
About
Nigel obtained his BSc (Hons) in Microbiology and Genetics from University College London (UCL) in 1990 and an MSc in Applied Molecular Biology of Infectious Diseases (1992), PhD in Molecular Parasitology (1999) and DLSHTM (2000) from the London School of Hygiene & Tropical Medicine (LSHTM). After his PhD, Nigel returned to UCL as a post-doctoral scientist at the Centre for Virology (Royal Free Campus). In 2003 Nigel transferred to the MRC/UCL Centre for Medical Molecular Virology as a senior post-doctoral scientist and subsequently progressed to Principal Investigator, funded by the MRC and industry (Ablynx).
Nigel is a Reader in Molecular Virology at the Medway School of Pharmacy. His other current positions include Honorary Senior Lecturer (UCL), External examiner (BSc) for Zhejiang University-University of Edinburgh Institute, Chair of Scientific Advisory Board for the EU/Czech project FIT (immunology, pharmacology, nanotoxicology), and scientific advisor for the SMEs VisMederi (Siena, Italy) and DIOSynVax (Cambridge, UK).
Nigel is a Fellow of the Royal Society of Biology (FRSB), Senior Associate Member of the Royal Society of Medicine (RSM), Member of the International Society for Influenza and other Respiratory Virus Diseases (ISIRV), the Microbiology Society and the European Society for Virology (ESV). In 2009 Nigel was elected as a member of the highly prestigious Medical Research Club, London. He is also active in Scholarly communication delivering training for online research platforms at Kent, and acting as a Figshare ambassador.
Nigel's ORCID is found at https://orcid.org/0000-0002-7978-3815
Temperton Lab Blog: https://blogs.kent.ac.uk/mspvpuprepare/
Research interests
Nigel's research interests lie primarily in emerging/re-emerging and transboundary viruses (SARS-CoV-2, MERS-CoV, SARS-CoV coronavirus, pandemic/inter-pandemic influenza, rabies/lyssaviruses, filovirus) and the methods for their control, in particular by vaccination induced antibody responses and small molecule and mAb therapeutics. For this purpose Nigel has established novel virus antibody neutralization assays using harmless "pseudotype" virus mimics for many high-containment viruses (Influenza, coronavirus, rabies, ebola) using repurposed retroviral and lentiviral vector technologies.
In January 2011, Nigel established (with Simon Scott) the VPU (Viral Pseudotype Unit) within the School of Pharmacy, a purpose built, dedicated viral pseudotype R&D laboratory. The role of the VPU is to act as an interface between academia, industry, animal and public health laboratories with the purpose of translating basic virus research into in vitro cell culture based assays that can be readily employed for the efficacy testing of vaccines, antivirals and therapeutic antibodies.
Nigel maintains an extensive portfolio of active collaborations globally with academia (UCL, University of Oxford, Cambridge Sussex, Nottingham, Liverpool, TANUVAS Chennai, Indian Institute of Science, Bangalore, University of Siena), public/animal health laboratories (PHE/WHO/APHA/OiE/NIBSC), vaccine CRO/clinical trial centres (VisMederi-Siena, Jenner-Oxford) and industry (vaccine and biotech companies).
Current Projects:
COVID-19: nCoV: Developing CoV-bnMAbs for therapy of highly pathogenic coronaviruses including SARS-CoV-2 (MRC funded)
The use of pseudotype-based serological assays to study human influenza challenge (BBSRC/MRC HIC-VAC funded)
The development of Digitally designed, Immune Optimised Selected and Synthesized Vaccines for Influenza (Bill and Melinda Gates and Innovate UK/DIOSynVax funded)
The development of surface-engineered retroviral vectors to study the antigenic evolution of influenza H5 and H7 viruses in poultry and humans
The study of homosubtypic and heterosubtypic immunity to influenza viruses in order to inform universal influenza vaccine design
Comparative serology for influenza and coronaviruses in order to establish more accurate correlates of immunity (with VisMederi, Italy)
The translation of "sequence-file serology" to public/animal health and industrial laboratories worldwide (with NIBSC, VisMederi, Humabs, DIOSynVax & Blue Water Vaccines)
The development and deployment of cell-entry assays for the study of emerging bat virus tropism and neutralisation (with APHA)
The design and development of pseudotype-based vaccines for emerging viruses.
Last updated 20th July 2022